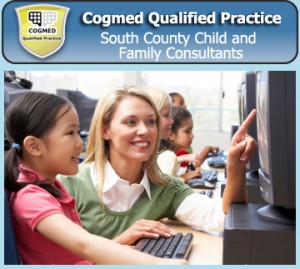 Cogmed Working Memory Training is a software based training program that improves the tension. It is particularly helpful for improving concentration, controlling impulsive behavior, and developing problem solving skills. For kids with ADHD in Rhode Island, Cogmed is a great tool. Many participants also report improvement in reading and math skills based upon the improvement of underlying working memory. Cogmed is renowned for the wealth of scientific research that supports this as a tool for ongoing improvements in working memory.
Cogmed is particularly useful for children who have been diagnosed with Attention Deficit Hyperactivity Disorder. Children who struggle in following multi-step directions, processing information efficiently, and sustaining their attention while reading or doing school work are also excellent candidates for Cogmed Working Memory Training.
Cogmed Working Memory Training is conducted within the child's home. After the initial evaluation session at the South County Child and Family Consultants Office, the participants are required to spend 30-40 minutes five days a week with the training program. Parent participation, as a supervisor and training aide in the home, is also necessary for younger children. Booster training sessions at the conclusion of the five-week program are also available.
If you are interested in obtaining further information on Cogmed Memory Training, please visit their website www.cogmed.com or call South County Child and Family Consultants at 401-789-1553.
For a consultation, visit Dr. Randy Kulman at 1058 Kingstown Rd. Wakefield, RI 02879 for more on this topic.

Receive online class information and helpful tips from Dr. Randy Kulman's LearningWorks for Kids